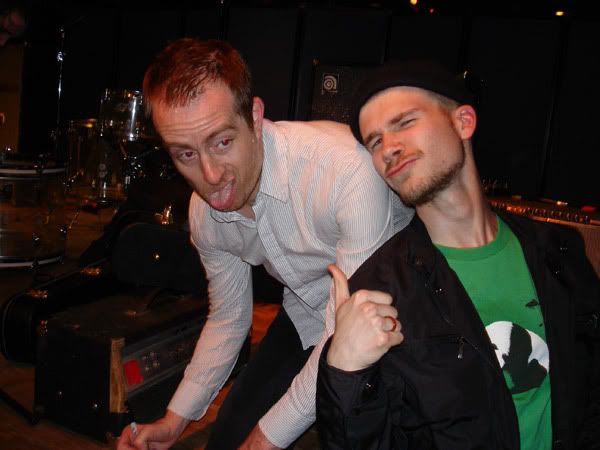 The night I've been waiting for ever since I stumbled upon "Shake the Sheets" finally came last night.
Ted Leo & the Pharamcists
came back to Madison. Now I never saw them at the Rathskeller, or anywhere live for that matter. My anticipation rivaled only that of a Japanese school girl waiting for Justin Timberlake.
Love of Diagrams, who were supposed to open, pulled out at the last minute due to a band member suffering from a migrane. Ted and the gand just decided to play an extended set.
I ran into a few familiar faces, and met a couple new ones. I met a
Quaker
. I must say, she was the dancinest' Quaker I've ever seen. I inquired briefly about the Quarkers and her association with them. She joined them recently on her own accord, and explained that they have little hierarchical structure with no "pastor" leading them. Instead they all sit in a circle and discuss with eachother.
My old point & shoot was giving me poor results, due in part from my floor posistion and the bland stage lighting. The Quaker (I never asked permission to share her name) and I writhed as two trees on fire in a forest that refused to burn. They seemed more enthusiastic at the end of each song, rather than losing themselves to the melodies.
They played a great helping from all of their albums, including old classics such as Biomusicology (see video below) and Timorous Me. I was surprised at some of the tracks that were missing from the set list. Most notably; Hearts of Oak (one of my favorites); Tell Balgeary, Balgury Is Dead. And from his newest album; Who do you love?; and C.I.A.
I'm not one with a professional ear, but I think they could have used a better room for sound.
I also couldn't resist being the ass in the crowd to request Kelly Clarkson. I really do love his acoustic cover of "since you've been gone". He pointed me out in the crowd and retorted with a big "NO".
I then filled my little girl fantasy and requestered their John Hancocks on one of Billy's amazing posters. Ted thanked me for being the jack ass in the crowd, otherwise it would be only him.
He's the kind of guy I wanna grow up to be :-)